What's the trouble with which one of your commercial appliances in Missouri City, Texas? Is the commercial oven not working at all? Is there a problem with the stove? Is the freezer not cooling as it should? Put your mind at ease, despite the seriousness of the problem and how urgent your commercial appliance repair request may be.
In Town Appliance Repair Missouri City handles all local service requests in no time. Our capacity to quickly dispatch pros makes us the number one choice in hours of need. Plus, we understand how vital all those ovens, fridges, and stoves are to all commercial kitchens. And that's one more reason for taking quick steps and, thus, swiftly addressing all problems with commercial kitchen appliances in Missouri City.
Missouri City commercial appliances are repaired quickly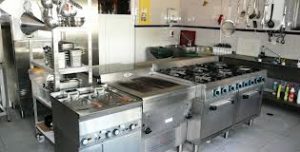 The moment you call our team to say that you face some troubles with some commercial appliances, Missouri City technicians are notified to take action. See? We don't lose time. And neither should you. The very minute you realize there's an oven or stove malfunction, do reach us. Before you know it, a pro will be there to troubleshoot the faulty appliance and do the required oven or stove repair.
Full services for main commercial kitchen appliances
Now that you know our team is quick, let us focus on the range of services. You can really count on us for any kitchen commercial appliance service. We truly know that most of the times customers need their appliances fixed. But what if you decide to get a new freezer? Or, that you can no longer pay for oven repair services and decide to get a new appliance. Wouldn't you want the new kitchen appliance installed correctly? Let us assure you that you can reach our team for freezer repair, oven installation, stove tune up – any service at all on main kitchen appliances.
We send specialists in commercial oven, stove, freezer repair
One more thing. We don't send just any appliance service technician. All services are assigned to specialized in commercial kitchen appliances techs. To trained and fully certified pros who travel well-equipped – hence, ready to address problems then and there.
What's keeping you from calling our appliance repair Missouri City TX team? Is it the cost? That's easy to solve too. Message us your request, ask for a quote, ask any question you like. We assure you that you'll get answers quickly and the price you'll hear will be music to your ears. So, why delay? If you are having some problems with your Missouri City commercial appliances, let us address them. We just need to hear from you.